The new Cool Head Europe 2023 catalogue features a complete range of refrigeration equipment with a focus on energy efficiency.
We have expanded the range of Class A products, in line with our commitment to offering equipment that allows professionals to work at the highest level while optimising energy use. This saves on power bills and makes an active contribution to the environment.
Inox: More efficient refrigerated cabinets and tables
In the Inox category, we are presenting several new products, including the QR 12-5A and QR 6-5A models, which have GN2/1 trays and are rated Climate Class 5 and Energy Class A.
We have also improved our range of blast chillers, available in various capacities (from 3 to 15 trays), with a special bakery kit for baked goods.
One of the great novelties in this catalogue is the QM 368 meat ageing cabinet model. This cabinet allows the meat ageing process to be carried out at a controlled temperature and humidity to achieve optimal results. This process gives you soft, tender, tasty meat.
The QR 6-5A, QR 12-5A and QM 368 cabinets will be available from April and can be ordered now via this link.
ABS

We have extended our range of ABS refrigerated cabinets with four models: the QNG 600 and QNG 400, and the QNXG 600 and QNXG 400, all freezers with glass doors. The difference between these models is the finishes: the QNG models are white and the QNXG models are stainless steel.

Display

In the display cabinet category, we have adapted to market demand with the design of the RC 120SQ and RC 160SQ models, which feature elegant, square lines.

Both models have four double-glazed panels to reduce condensation while displaying food in the most attractive, appetising way.
Drinks

Introducing the TKG 420, TKG 710, TKG 420B and TKG 710B, designed to store drinks in optimal conditions and ensure energy savings. They use R600a refrigerant gas and are available in white and black, adapting to the design and needs of each business.

But that's not all. The models can be chosen with or without a canopy, to personalise them with your brand's advertising or logos.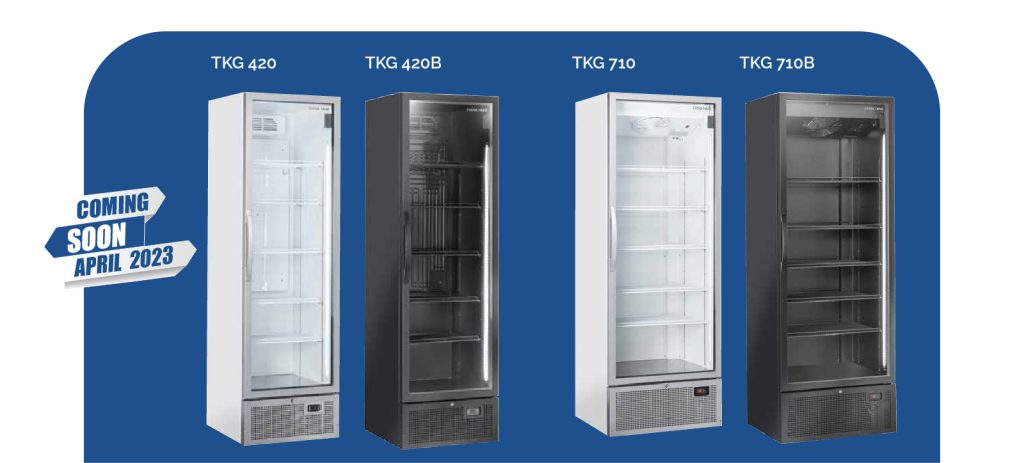 Versus: stylish sustainable showcases Made in Italy

We are particularly pleased to present our new brand Versus, made and designed entirely in Bologna. A project in which we have used all our experience in the refrigeration sector to create with expertise and passion a line of display cabinets that is on the cutting edge in terms of efficiency, design and adaptability. The range is made up of pastry and ice cream display cabinets, plus meat-ageing and wine-storage cabinets. Showcases that seduce all eyes and emanate delicacy and efficiency in every detail.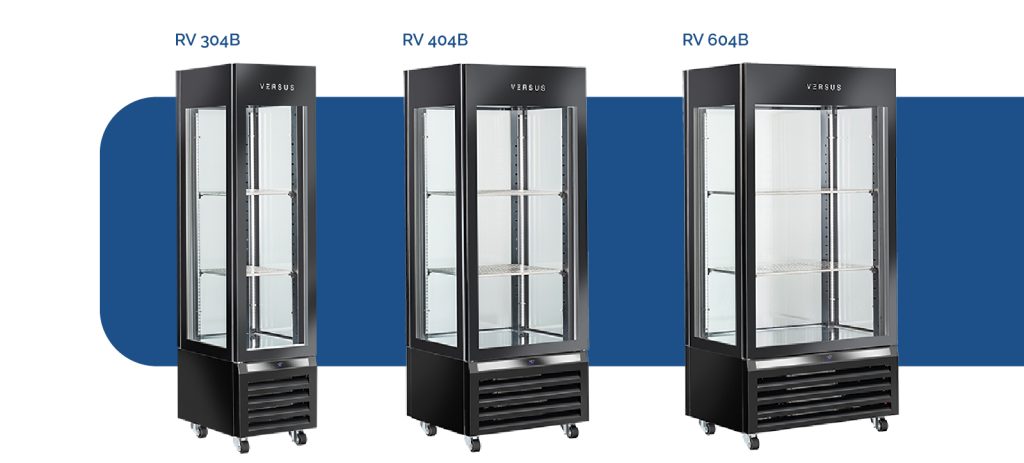 .