Choosing the best professional equipment is crucial for any business specialising in hostelry or confectionery. Why? To provide the best customer service at the highest levels of efficiency and functionality.
Professional refrigerated cabinets are a basic piece of equipment. We call them cabinets because they are like vertical refrigerated items of furniture, with one or more doors, or half doors. There are also different types of opaque or glass doors, and those made of different materials such as stainless steel and ABS. Stainless steel is undoubtedly the number one material in the hospitality industry. It is widely used for furniture in the sector because of its hygiene, ease of cleaning and durability, as it is more resistant to corrosion.
But what kind of cabinets are there? There are positive temperature, negative temperature or combined cabinets, depending on what they are used for – preserving or freezing. There are also different types of refrigeration, depending on the cooling system they use: static cooling, ventilated or roll bond.
Cool Head Europe has a wide range of specific products for all type of business, including individual ones and mixed ones, with combined temperatures (positive and negative).
What types of professional cabinets are available?
Positive cabinets store and preserve the food, and negative cabinets store it at freezing temperatures depending on the requirements of the product.
And how to choose the best version? The choice is directly linked to the food that you want to keep in the refrigerator. Vegetables, meat and fruit must be stored at refrigeration temperatures between -2 °C and +8 °C. This is because this is the temperature range that inhibits the growth of pathogenic microorganisms.
On the other hand, the standard temperature for freezing is -18 ºC. The bacteriological activity that decomposes food stops at this negative temperature. Most equipment can operate at between -22º and -18º, but whether you choose a more powerful one will depend on what you want to store.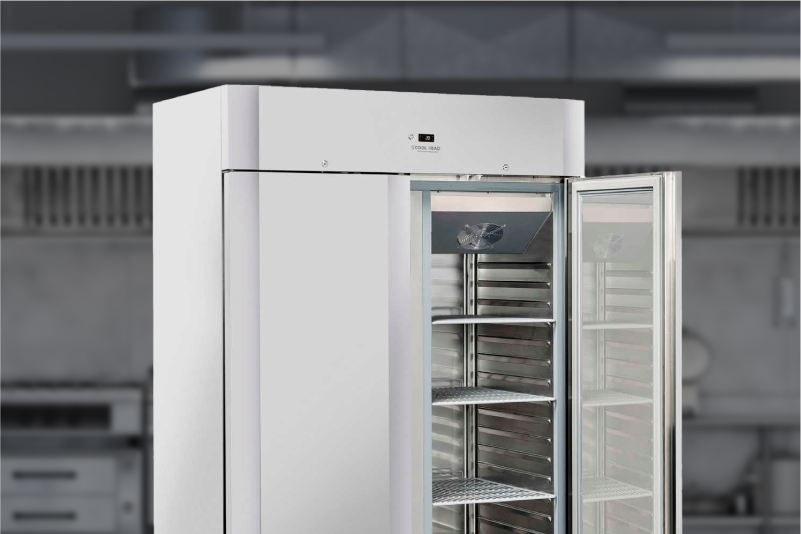 Consumption and energy class
Refrigerated cabinets run for 24 hours, every day of the week.
That is why it is essential to choose equipment that is energy efficient, in order to save on electricity payments and be environmentally conscious.As of 2021, both professional and domestic equipment is using a new labelling system to show their energy efficiency. In order to update the classification and simplify labelling, the European Commission approved the new system in 2019; it went back to labels ranging from 'A' to 'G'. The main change in the new labelling system is in the categories. The colours from red to green remain, but the letters have changed. Products marked with the letter 'G' are the least efficient, while products with the letter 'A' are the best in energy terms.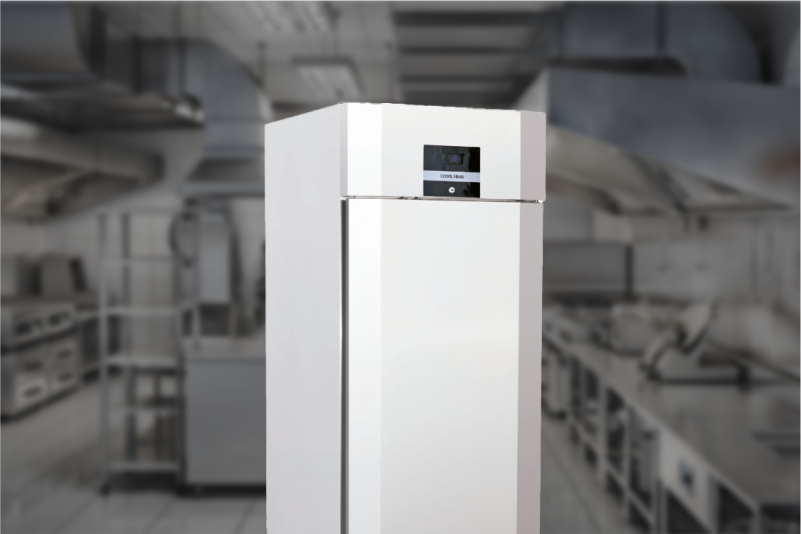 In terms of consumption, it is also crucial to choose equipment with an Inverter compressor and which uses friendly coolants such as R600a and R290, which we will discuss in more depth in another post.
Static, ventilated or roll bond: what type of cooling to choose depending on the food that the professional refrigerated cabinet will contain
In food preservation, knowledge of the different types of refrigeration is essential to ensure that the equipment is used in the best way. There are three main types of refrigeration for professional refrigerated cabinets: static, ventilated or roll bond.
Static and ventilated cooling are the most common, and each has its own characteristics and you need to find out what they are in order to make the best choice depending on the needs which the equipment has to cover.
There are various aspects to take into account:
Type of product to be stored
Capacity of the equipment;
Thermal load required;
Technology and equipment specifications.
Static cooling
Refrigeration takes place based on the gradual thermal exchange that is created in the internal walls of the equipment and the products packed inside it: and this is the type of refrigeration most commonly used in horizontal ice cream displays, for example.
Ventilated cooling
This method has greater cooling power because it is carried out on a more uniform basis throughout the entire interior of the equipment. This is thanks to a micro-fan that blows air near the condenser coils, leading the air to cool and circulate within the equipment.Professional refrigerated cabinets with roll-bond cooling are cooled by a plate with refrigerant gas on the rear wall of the compartment. This is an unusual technique, since it lies at the midpoint between static cooling and ventilated cooling.