The day-to-day running of any hospitality business requires certain types of industrial machinery that contribute to providing optimal customer service and helping professionals to work in the most comfortable way possible.
So one of the major priorities is to save time and space. Bars, restaurants and pizzerias can solve two of these needs at once by using a refrigerated counter. But what is a refrigerated counter?
A refrigerated counter is a piece of equipment made of stainless steel which in addition to refrigerating food on the bottom, has a space at the top that could be called a worktop, where various complementary activities can be carried out, to optimise everyday working.
Points to consider: basic characteristics
In the market there are cold storage counters (positive cooling) and freezing storage counters (negative cooling), with the interior temperature varying depending on the product to be stored.
Types of refrigerated counter
What kind of counters are available? Each counter may have different customisable options, such as glass doors or drawers, gastronorm or snack measures, or come in different heights depending on the work to be done. So they can be fully adapted to the business where they are going to be used. For example, a confectioner will not use the same refrigerated counter as a restaurant.
There are different varieties of refrigerated counter:
GN refrigerated counter. Designed according to Gastronorm standards, enabling the use of standardised measures for easy exchange of containers, trays, etc.
600 mm deep refrigerated counter. This is the narrowest depth to which this type of counter can be manufactured to be valid.
Low counter. Especially designed to ensure support for other complementary machines or for installation under the counter. They are usually used in very confined spaces. Refrigerated counter for fast food establishments: Models designed for making pizza, salads, etc. They can incorporate ingredient displays on the top, or several GN trays can be placed on the worktop.
Stainless steel quality
All the different varieties are usually made from stainless steel. The range of stainless steels has to do with their resistance to deterioration and corrosion. The higher the steel's grade number, the better its quality. So a useful piece of information to take into account in the specifications is the stainless steel's grade number, which should be 304 or higher. What other aspect is crucial? The insulation of the structure.
Insulation
Some refrigerated counters have insulation that optimises the cooling; these insulation systems extend the useful life of the engine. A refrigerated counter which has insulation will therefore be more efficient than one without it. Cool Head Europe's range of refrigerated counters feature insulation with the thickest cyclopentane on the market at 70 mm, instead of the standard 55 mm.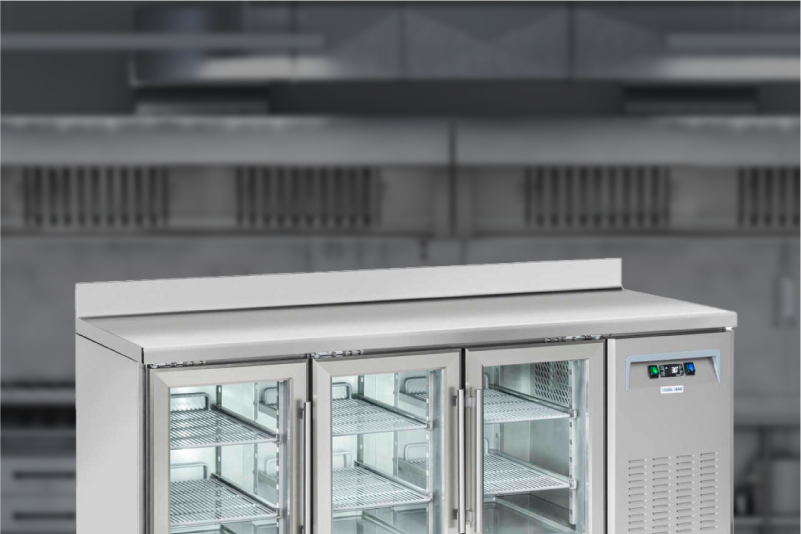 Temperature range and consumption
Another very important aspect to take into account when choosing a refrigerated counter is the temperature. Refrigerated counters that have a positive temperature are ideal for fish and other foods that do not need to drop below -2 degrees or rise above 8.
If you need to freeze food, you should choose a refrigerated counter with a negative temperature, because they are capable of reaching -25 degrees. That way, your food can be frozen in perfect condition. When it comes to controlling the temperature, it is important that the refrigerated counter has a state-of-the-art digital thermostat like the ones provided by Cool Head Europe.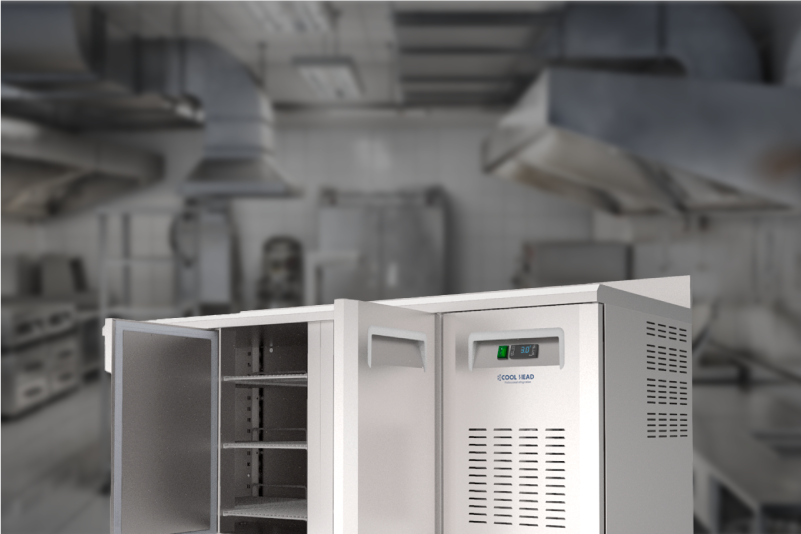 Type of cooling: static or ventilated
Professional refrigerated counters can also work with static or ventilated cooling. As mentioned previously, static cooling is where the cold spreads by gravity. This is perfect for foods that need a humid environment in order to be preserved in the most optimal way. On the other hand, counters that use ventilated cooling create a much cooler environment than the alternative. That's why this type of equipment is recommended for storing food that can be covered when it is stored, and for other delicate items such as fresh pasta and vegetables.